Lifejacket – Wear it!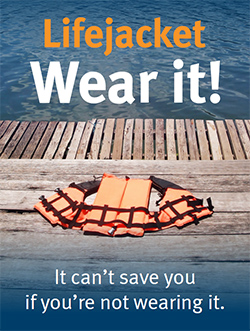 The Lifejacket - Wear it! campaign is about saving lives.
Lifejackets improve the survival rate of incident victims, particularly after an incident such as capsizing, sinking, swamping or falling overboard.
In fact, when you are surrounded by water, a lifejacket could save your life. Lifejackets are not an optional safety feature—think of them as the seat belts of the sea.
Between 1992 and 2018, 230 people drowned, or were presumed to have drowned, as the result of a marine incident in Queensland waters. Of these, only 12 were known to have been wearing a lifejacket.
Don't wait until it's too late—it's common sense to put on your lifejackets before you need them.
Still not convinced? Our friends at the Canadian Safe Boating Council undertook a lifejacket challenge where experienced boaties were given 60 seconds to try to find and put a lifejacket on while in the water. Witness just how difficult it is to put your lifejacket on in the water and what happens on board if you need to get to one quickly. View the Canadian Safe Boating Council Lifejacket Challenge video on YouTube.
A lifejacket is a vital piece of safety equipment on your boat, personal watercraft or paddlecraft—wear it!
Skippers—don't forget you need to make sure your passengers know where the lifejackets are and how to put one on. Even better make sure everyone has a lifejacket on before you leave the shore.
Passengers—ask the skipper where the lifejackets are so you can wear one. If you're not sure how to put it on, ask the skipper for help.

Read more information about lifejacket requirements in Queensland.
Lifejacket – Wear it! is an international collaboration to promote the wearing of lifejackets and prevention of death by drowning. Find out more about the worldwide safety initiative on the International Lifejacket Wear Principles website.
Wear your lifejacket to work day

On a nominated day of the year, we support this worldwide safety initiative to promote the wearing of lifejackets by boaties, fishers and paddlers. To participate, all you need to do is grab a lifejacket and wear it for the commute and while at work. You might stand out a little, but you will help show your colleagues that if it's easy enough to wear in the office, it's so simple to wear when on the water.