Real boaties, real lives
The boating safety campaign uses stories from real boaties to highlight the importance of carrying the right safety equipment and knowing how to use it. Skippers and their passengers failing to carry and know how to use safety equipment are key contributing factors to marine fatalities. 
All vessel owners and operators have a responsibility to operate a vessel safely at all times.
Boats not requiring registration do not have to carry the regulated safety equipment, but the skipper still has a general safety obligation. When deciding what to take on board, remember your obligation—if you fail to carry a piece of safety equipment that could have helped prevent an accident, you could be prosecuted.
The aim of this campaign is to make people more aware of the impact of their behaviours, and in particular, alert people to the increased likelihood of severe injury or fatality if safety equipment is not on board and not used.
The focus of the message is to remind vessel owners and operators of their general safety obligation and educate them to:
have the correct equipment for the journey, keeping it well maintained, monitoring expiry dates and check it's working properly before it goes on board
make sure safety equipment is quickly and easily accessible and ready for any emergency
make sure everyone on board knows where the safety equipment is
know how and when to use the safety equipment before you leave because conditions can change quickly
wear a lifejacket—particularly in dangerous situations such as crossing bars, but also be aware that even on clear, calm days things can go wrong
at the first sign of trouble, lifejackets should be donned with other safety equipment readily at hand.
Find out more about boating safety.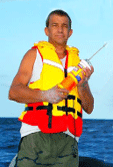 'We're just feeling lucky to be here'
Robert McMurray, recreational boatie

Read Robert's story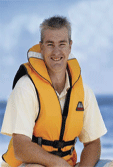 'Within seconds, water was pouring in everywhere'
Shane Austin, recreational boatie

Read Shane's story