Lifejackets
A lifejacket is a vital piece of safety equipment that could save your life. The best idea is to make sure you wear it. Put the lifejacket on as part of your pre-trip preparation. It is a lot harder to put a lifejacket on in the water during an emergency.
Lifejacket rules
It is compulsory to wear a lifejacket:
when crossing a designated coastal bar in an open boat that is less than 4.8m in length
if you are under 12 years (aged 1 year or more but less than 12 years) in an open boat that is less than 4.8m in length and underway
when on a personal watercraft (commonly called a 'jet ski').
Our law says that:
boat owners or skippers must give each person on board information about where safety equipment is kept and clearly sign where lifejackets are stowed. The labels must have the word 'lifejacket' in red text on a white background or white text on a red background
lifejackets must comply and display information about which Australian Standard (AS) they were manufactured to. The current standard is AS 4758, which has replaced AS 1512-1996, AS 1499-1996 and AS 2260-1996.
lifejackets that comply with old standards (AS 1512, AS 1499 or AS 2260) can only be used if a ship was equipped with them prior to 1 September 2016 and are within their serviceable life.
Learn more about lifejacket standards.
Types of lifejackets
All lifejackets must be marked with the appropriate label indicating the lifejacket level. This label is marked by the manufacturer and should be on the lifejacket at the time of purchase.
For use in open waters
'Level 100', 'Level 150' or 'Level 275' for lifejackets.
You can wear this type of lifejacket in smooth and partially smooth waters as well.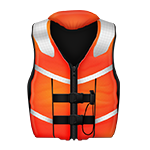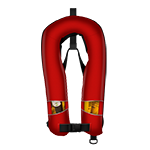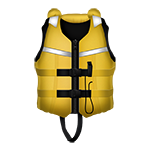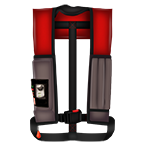 For use in partially smooth waters
'Level 50' for lifejackets.
This type of lifejacket:
helps keep you afloat but does not have a collar to keep the head above water
can be worn in smooth waters as well
can be used by skiers or people being towed in smooth or partially smooth waters
can be used by PWC riders in smooth and partially smooth waters or beyond those waters.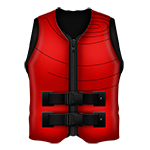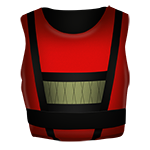 For use in smooth waters
'Level 50 special purpose' or 'Level 50S' for lifejackets.
This type of lifejacket:
may be a specified buoyancy wet suit
is for use in smooth water and only where the user is likely to be in the water for a short time
can be used by skiers or people being towed in smooth waters
can be used by PWC riders in smooth waters.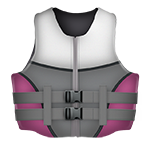 Coastal and SOLAS lifejackets
These lifejackets have more flotation than a Level 100 lifejacket. They are bulky lifejackets designed to keep the body afloat for long periods. They have reflective tape and a whistle to attract attention. These lifejackets are mostly carried by commercial boats and recommended to be carried by boats operating long distances offshore.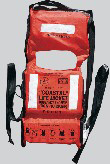 Inflatable lifejackets
Inflatable lifejackets must comply with the same standards as foam lifejackets. They must be gas inflated and not rely on oral inflation only. Inflatable lifejackets are also required to have markings that show the level of buoyancy that the lifejacket will provide.
Inflatable lifejackets used on a recreational boat must show an expiry date and be serviced by the manufacturer or authorised service agent before the expiry date.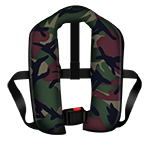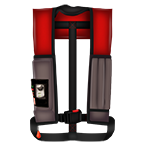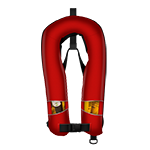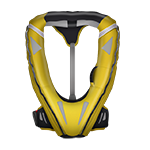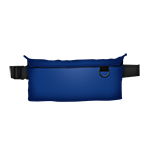 Servicing inflatable lifejackets
The emergence of affordable, comfortable and stylish lifejackets is a major step forward in boating safety. Inflatable lifejackets are rapidly gaining popularity because of their convenience and increasing affordability.
As lifejackets spend so much time in a harsh marine environment where they are often exposed to heat, sun and salt, they are subject to damage. One aspect of inflatables that boaters are often unaware of is that Queensland regulations require inflatable lifejackets to be serviced in accordance with manufacturer's specifications.
Manufacturer's servicing
Some manufacturers require you to have your lifejacket serviced by them or by an authorised agent. This will ensure it remains in good working order and functions properly.
When the lifejacket is serviced, checks will be carried out to ensure the bladder, reflective tapes, buckles and straps are in working order and that the inflation system and oral inflation tube are operating correctly. Contact the manufacturer or the place of purchase for further details.
Self-servicing
Some manufacturers allow you to 'self-service' your lifejacket, provided you do so in accordance with their instructions.
If the manufacturer allows self-servicing and you feel competent to do so, follow the manufacturer's instructions carefully. If there is a service record in the inside of the jacket, sign and date the service record with a permanent marker. Otherwise, you should ensure that the date of service is marked on the lifejacket in line with the manufacture's requirements.
If you do not feel competent to self-service your lifejacket you should get it serviced professionally. This is a higher level of inspection and replacement of parts than 'self-service'.
Keep all servicing receipts and certificates of servicing as documentary evidence of the service occurring. You do not need to keep this on the boat.
Keeping a safety equipment log for your vessel is a good way to record service or replacement dates.
Guidance on how to self-check your inflatable lifejacket
Self-checking a lifejacket can be done at any time to ensure the jacket is functioning properly.
If you want to self-service your lifejacket, follow the manufacturer's instructions for your specific lifejacket model. Generally, these will follow the below steps.
Step 1
Check for visible signs of wear and damage. Ensure all fastenings and buckles are in good working order.
Step 2
Following the manufacturer's instructions, reveal the inflation system and oral inflation tube. Inflate the bladder using the oral tube and leave overnight in a room with a constant temperature. If the bladder loses pressure, immediately take the lifejacket to an accredited service agent for further tests.
Do not attempt to repair your lifejacket yourself.
Step 3
Use the cap attached to the oral inflation tube to deflate the bladder. Invert the cap and press down on the valve at the top of the oral tube. Do not insert other objects into the top of the tube as they may damage the valve. Roll or press the lifejacket to deflate fully.
Step 4
Remove the CO2 cylinder and inspect it. The cylinder should be intact, with no rust or corrosion. Weigh the cylinder on kitchen or letter scales and ensure its weight corresponds to the minimum gross weight engraved on the cylinder +/– 2g. If the cylinder is rusted, corroded, has been pierced or is not the correct weight it should be replaced immediately. On auto inflation lifejackets also ensure that auto components are armed and in date. Refit the cylinder to the inflation system, tightening it by hand until firm. Do not over tighten.
Step 5
Repack the lifejacket as per its manufacturer's instructions. Ensure the manual inflation toggle is accessible and unlikely to be caught when being worn in general activities.