Port Procedures and Information for Shipping—Townsville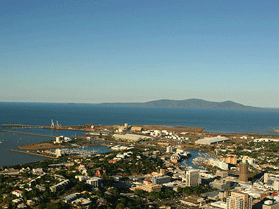 Townsville is the principal port in north Queensland and services a large area that includes the mining community at Mount Isa and the Greenvale nickel refinery. The main imports are refined fuel products, nickel ore, motor vehicles, cement and general cargo.
Exports include raw sugar, copper and zinc concentrates, refined lead, copper, zinc and nickel, high analysis fertiliser in bulk, molasses, frozen beef, and live cattle.
Townsville is also a regular port of call for cruise ships and naval vessels.
Port Procedures and Information for Shipping—Port of Townsville
Contact information
Regional Harbour Master (Townsville)
Phone: +61 7 4421 8100z
Fax: +61 7 4721 2028w
Email: rhmtownsville@msq.qld.gov.au
Townsville Vessel Traffic Services
Phone: +61 1300 721 263z
Fax: +61 7 4721 0633w
VHF radio: channels 12 and 16
Port of Townsville Limited
Phone: +61 7 4781 1500z
Fax: +61 7 4781 1525w
Email: info@townsville-port.com.au
Port Marine Services
Phone: +61 7 4781 1684z
Fax: +61 7 4771 4493w
Email: duty@townsville-port.com.au
Customs
Fax: +61 2 6275 6331w