Distress signals, flares and emergency beacons
If you are in an emergency on the water and need help, you can use distress signals, flares, Personal Locator Beacons and Emergency Position Indicating Radio Beacons to show you are in distress.
Distress signals
Distress signals are used to show that you need help and require immediate assistance. The signals are internationally recognised and must only be used if you are in distress.
Use your marine radio/signalling

'mayday, mayday, mayday' in emergencies only
'pan pan, pan pan, pan pan' for urgent messages that aren't emergencies
SOS in Morse code (using marine radio or another signalling method).

If other boats or aircraft are in the area, let off an orange smoke flare (daylight) or a red hand-held flare (night).
A v-sheet should be displayed to attract the attention of other boats or overpassing aircraft.
Slowly and repeatedly raise and lower your arms outstretched to each side.
Continuously use sound signalling equipment for SOS.
Display international code flags N over C.
An EPIRB or PLB should be used as a last resort. Keep it turned on until help arrives.
Flares
Use flares to get the attention of other boats or aircraft in the area if you need assistance. Flares must be carried on all Queensland-registered ships, visiting interstate ships, ships under a restricted use authority and personal watercraft (PWC) that operate beyond smooth water limits, except for tenders that don't need registration. Two orange smoke and 2 red hand flares are needed as part of the safety equipment for these boats.
Your flares must be in date. Flares have a life span of 3 years and must be replaced before they expire. The expiry date is printed on the flare.
Always read the instructions and make sure you understand the manufacturer's directions before storing your flares on board your boat.
Flares should be stored in a dry place where they will be easily accessible in an emergency.
The red and orange flares allow a distress signal to be seen during the day and at night-time. Effective ranges of these flares in conditions of good visibility are:
| | | |
| --- | --- | --- |
| Flare type | At night | During the day |
| Red hand flare | 5 to 10 nautical miles | Are red in colour and can be used during the day |
| Orange smoke flare | Not suitable | Very limited visibility up to 1.4 nautical miles (nm) but better from the air |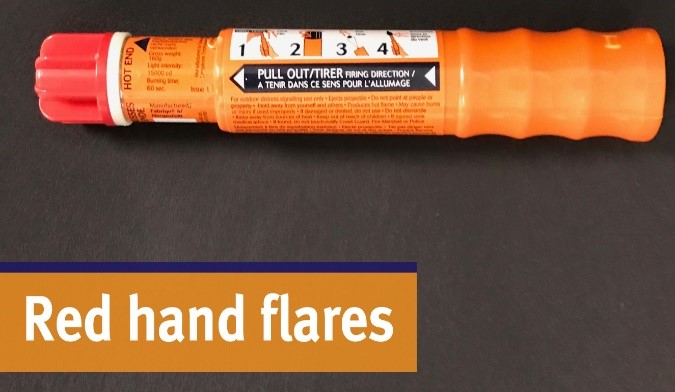 There are severe penalties for misuse of flares including—the cost of labour, risk incurred or loss sustained as a result of misusing flares.
Make sure you dispose of expired flares correctly.
Emergency beacons—EPIRBs and PLBs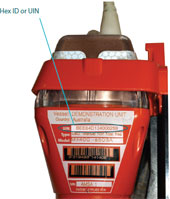 An Emergency Position Indicating Radio Beacon (EPIRB) is a small electronic device that, when activated in an emergency, can help search and rescue authorities pinpoint your position.
Once activated, EPIRBs continuously send out a signal for at least 48 hours. Search and rescue authorities respond to all EPIRB activations—you must only activate the EPIRB in an emergency and you must tell them immediately if you no longer need help.
All boats operating beyond smooth and partially smooth waters or more than 2nm from land in open waters must carry a 406MHz digital EPIRB.
Operators of lightweight craft have a choice if they want to carry an EPIRB or a Personal Locator Beacon (PLB). If you choose to carry a PLB in place of an EPIRB, it must:
Lightweight craft means off the beach type craft, human powered canoe and kayak, small sailing vessels (less than 6m in length) and personal watercraft.
EPIRBs must:
comply with AS/NZS 4280.1:2017
be registered with AMSA. Registration is free and must be renewed every 2 years. You will also need to tell AMSA when the beacon ownership or boat details change.
Do not dispose of old EPIRBs and PLBs in general waste as it will end up in landfill and could be accidentally activated. Contact your local battery store to check whether they disconnect and dispose of beacons. A small fee may apply.
Quick safety tips
Keep flares and beacons in good condition and accessible at all times on your boat. You should clearly sign where safety equipment is kept on your boat.
Make sure you know how to use flares and beacons before you go out on your boat so you're ready in an emergency.
Check the expiry dates on safety equipment regularly and replace them before they expire.
Wear your PLB on your person.