You're The Skipper, You're Responsible

Maritime Safety Queensland is focusing on responsibility for safety on the vessel skipper. You're The Skipper, You're Responsible is an initiative aimed at encouraging recreational operators to take responsibility for their actions on the water and for skippers to be aware they are ultimately responsible.
If the skipper takes the lead, then crew and passengers will follow. You're The Skipper, You're Responsible will be at the forefront of all Maritime Safety Queensland educational material and campaigns reminding skippers of their responsibilities.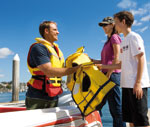 Skippers need to be constantly aware of their responsibilities on the waterways, continually observing maritime regulations and safety requirements.
You should:
Prepare by having the correct equipment for the journey, keeping it well maintained, monitoring expiry dates and checking before it goes on board that it's working properly.
Make sure safety equipment is quickly and easily accessible, particularly in an emergency, and make sure everyone onboard knows where it is.
Know how and when to use safety equipment because conditions can change quickly, and at the first sign of trouble life jackets should be donned with other safety equipment readily at hand.
Wear life jackets in dangerous situations such as crossing bars but also be aware that even on clear, calm days things can go wrong.